Implementing Learning Designs

Learning design for the higher education environment is a complex task, especially in light of the increasing diversity of the student body. Learning materials need to be designed to take advantage of different student ability levels, learning approaches & media, and curriculum developed to support a huge variety of outcomes that are often discipline specific. Learning design is a professional activity for which many of our academic staff are not trained. In this project we created a framework and design guidelines that provide a comprehensive scaffold for academics to assist them in the development of inspiring learning design examples and supportive activities. The project employed design-based research methodology (Reeves, Herrington & Oliver, 2005) which involved adopting a flexible, iterative process over five semesters.

This project also explored the issues to emerge from the implementation of learning designs and identified barriers to their widespread adoption and ways of overcoming them. These findings underpin the implementation of learning design templates which address these adoption challenges in their design and streamlines the planning process. The templates can be used by academic staff to tailor exemplary examples to meet the individual lecturer's, and/or course co-ordinator's, particular requirements, whilst providing them with the underlying pedagogical principals involved in the learning design.

The project demonstrated that generic learning designs can serve as pedagogical frameworks to support academic staff in creating new learning experiences, with the lecturer adapting the learning design, specifying the particular activities and choosing or creating the resources and supports needed to suit his/her students (Bennett, Lockyer & Agostino, 2004).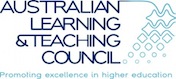 Support for this website has been provided by the Australian Learning and Teaching Council Ltd, an initiative of the Australian Government Department of Education, Employment and Workplace Relations The views expressed in the project do not necessarily reflect the views of the Australian Learning and Teaching Council.

Unless otherwise noted, content on this site is licensed under a Creative Commons Attribution-NonCommercial-ShareAlike 3.0 Australia License.